We at Mustard are thrilled to announce the launch of "In the Kitchen" with Mustard, a platform for live, interactive, instructional content with coaching sessions from many of the greatest athletes and coaches of all time, including Mustard cofounders Tom House and Jason Goldsmith. While the Mustard app gives you information about how your body moves and how to improve those mechanics, In the Kitchen connects the experience with in-depth instruction from the greatest coaches and players of all time. In the Kitchen, you will be able to interact with top coaches and athletes – first up, Los Angeles Dodgers star Clayton Kershaw! – in live group video sessions, sort and view recorded sessions, and learn the world's best mental and physical performance information.
In the Kitchen is launched in partnership with the Major League Baseball Players Association. Mustard's new partnership with the MLBPA will allow us to leverage the power of the top baseball players in the world, like Kershaw, to help democratize best practices for improvement, ensuring that young athletes everywhere have access to the best coaching and information.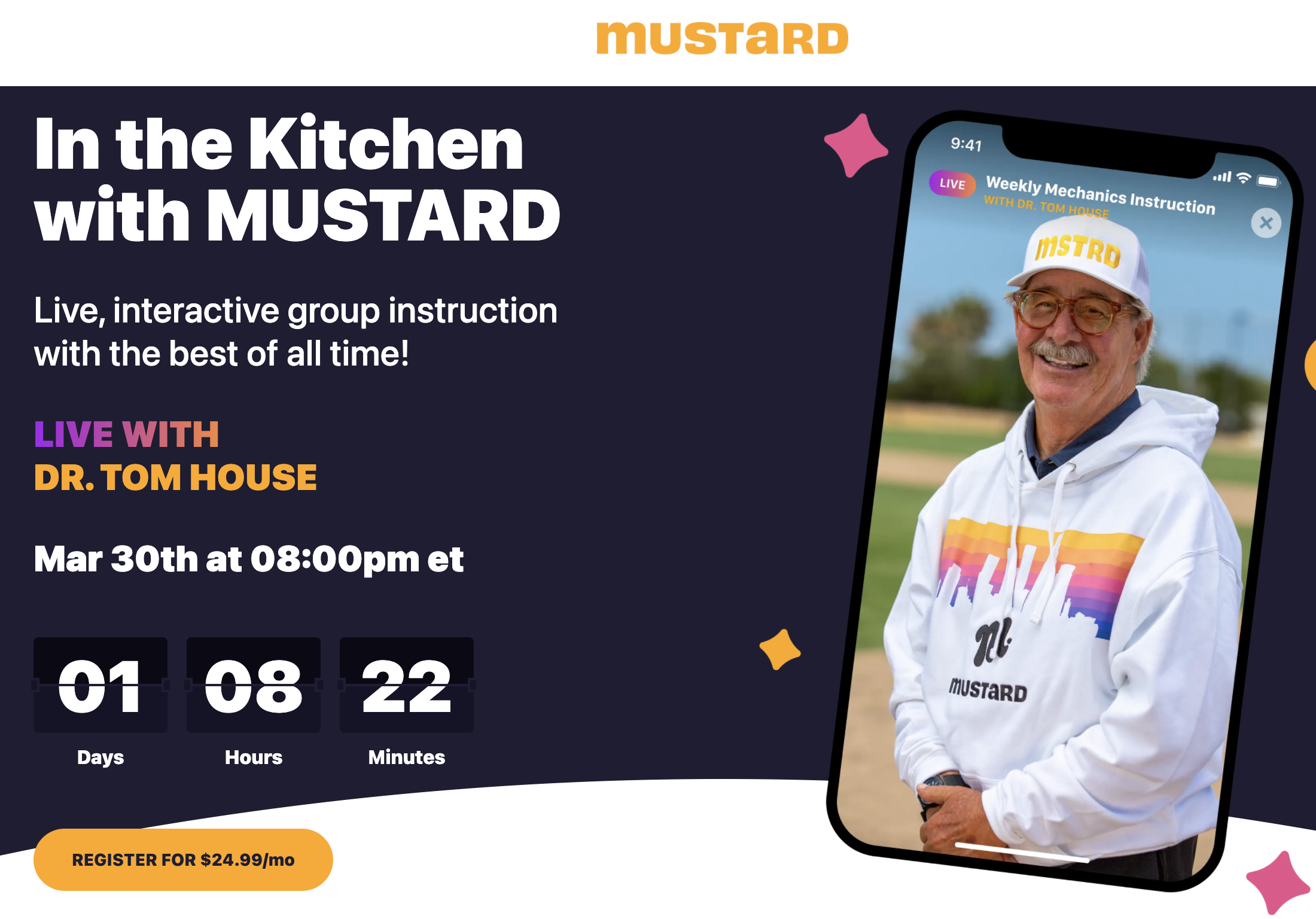 Kershaw will be the first professional athlete to appear In the Kitchen, on Wednesday, April 6th, at 8 PM ET/5 PM PT.
Kershaw is an eight-time All-Star, three-time National League Cy Young Award winner and the 2014 National League Most Valuable Player. His 2.49 ERA and 1.00 WHIP are the lowest among starters in the live-ball era. The lefthander won his first World Series with the Dodgers in 2020 and throws primarily a four-seam fastball, a slider and a Hall-of-Fame-worthy curveball. Kershaw will be discussing his mental approach to pitching and performance, the importance of visualization and feel, and how he handles pressure. He will also take questions from attendees on these topics.
Mustard cofounder and legendary pitching coach Tom House will appear In the Kitchen on Wednesday, March 30th, at 8 PM ET/5 PM PT. Coach House will review the pitching videos of six attendees, analyze their pitching mechanics and give them suggestions for improvement.
Mustard cofounder and globally recognized high performance coach Jason Goldsmith will be In the Kitchen in mid-April. Goldsmith emphasizes the mental aspects that guide each person on an individualized journey to peak performance in high pressure environments. Jason has worked Olympians and athletes from the PGA Tour, NBA, MLB, NFL, USTA and NCAA collegiate programs.
Registration for access to In the Kitchen with Mustard is now open, with a subscription fee of $24.99 per month. Mustard premium mobile application subscribers can view live streams of the instruction sessions (without being able to join the live interaction) as part of their $14.99 per month subscription. Stay tuned for more exciting content and guests to come!
---
If you'd like more great content from Mustard, and you'd like to evaluate and improve your own pitching mechanics, download the Mustard pitching app today.