Joey Steele never thought he'd be drafted. He'd struggled as a high school pitcher and didn't hit his stride until midway through a post-graduate year at the IMG Academy in Bradenton. He had an up-and-down four years pitching for the Dons at the University of San Francisco, but even after striking out 54 batters in 35 innings his senior year, Steele still hadn't filled out a single draft questionnaire or spoken to a single MLB scout. "When you looked at everything around my baseball life, there were no signs that I would play at the next level," Steele recalls. So on draft day in June of 2019, Steele went golfing. "I woke up that morning and said to myself, 'If anything good is going to happen today, it's going to be on the golf course."
When the Miami Marlins selected him in the 30th round, Steele wasn't watching. He got a text message reading, "Joe, you made it happen! So proud!" from USF head coach Nino Giarratano, then checked MLB's draft tracker on Twitter to see who had selected him and when. He was shocked. One person, however, was not.
"As soon as I found out I was drafted, I called Tom House," Steele says. "And he said, 'I told you so.'"
Steele, now 25, grew up in San Marino, CA, just east of Los Angeles and a two-and-a-half-hour drive north of Tom House's pitching facility in San Diego. When Steele was 9 years old, he began working with House. Steele's father, Bill, would drive him down the I-5 once a month for private lessons, and Steele would attend House's baseball camps at the University of Southern California each summer.
"I really wasn't very good, but I liked baseball, so I stuck with it," Steele says. "Tom was really the only person to encourage me. He'd say, 'It's all going to come together some day.' He was telling me I would play pro ball, even back when I was in high school."
Both Steele and his father loved House's coaching style. House worked to get the most out of each individual's specific body type, movement patterns and strengths. "Tom helped me build me a process, a road map, a way to prepare so I could be the best me I could be without having to feel like I was changing who I am," Steele says. "He's not trying to make you Nolan Ryan. He wants to make you the best you that you can be."
House teaches that it takes thousands of reps to change a movement pattern, but only one rep to fix a position, so Steele remembers a lot of positional shifts to improve his delivery. House would have Steele focus on keeping his shoulders closed so his front side wouldn't fly open, and on bending his knees two inches deeper in his set position to prevent a drop at the beginning of his delivery.
After a pretty good junior year at St. Francis High School in La Cañada Flintridge, CA, Steele suffered a stress fracture in his back and had to sit out his senior year. House was still in his corner, telling him to stick with it and stick with his process. During his post-graduate year at IMG, things began to come together. While Steele had put 5-7 In the "height" box on his driver's license on his 17th birthday in November of his junior year, he hit 6-2 at IMG. "I grew into my body and stuck with all the stuff Tom had told me to do," Steele says. "I was finally able to be healthy and compete at a high level."
In the summer of 2019 with the Batavia Muckdogs, the Marlins Class A affiliate in the New York-Penn League, Steele, now 6-2 and 205 pounds, posted 33 strikeouts and just five walks in 21.2 innings with a 2.08 ERA and 1.29 WHIP. In February of 2020, he reported to Marlins spring training camp in Jupiter, FL, but with the 2020 Minor League Baseball season cancelled due to COVID, Steele was on his own after mid-March. That is, at least physically. But he's had Tom House in his pocket all along.
"For me, the Mustard app has changed everything," Steele says. "Instead of going to Tom once a month, I feel like he's with me every day."
In the interest of time, Steele doesn't typically look at the Mustard app in between each pitch of his workouts, but he does look at it each night to assess his progress and develop a plan for the next day's training session. "Mustard gives me legit feedback on where I'm at, based on proven data," Steele says. "It takes out the uncertainties, gives me a starting point and makes everything a little more productive."
This winter, as he preps for the 2021 baseball season, Steele has been working hard with the Mustard app to improve his delivery and mechanics. "Mustard can help young pitchers become the pitchers they want to become, and it can also help elite pitchers who want to become 1% better," Steele says. "It offers such a variety of data, so you can pick and choose what you want to try to get better at every day."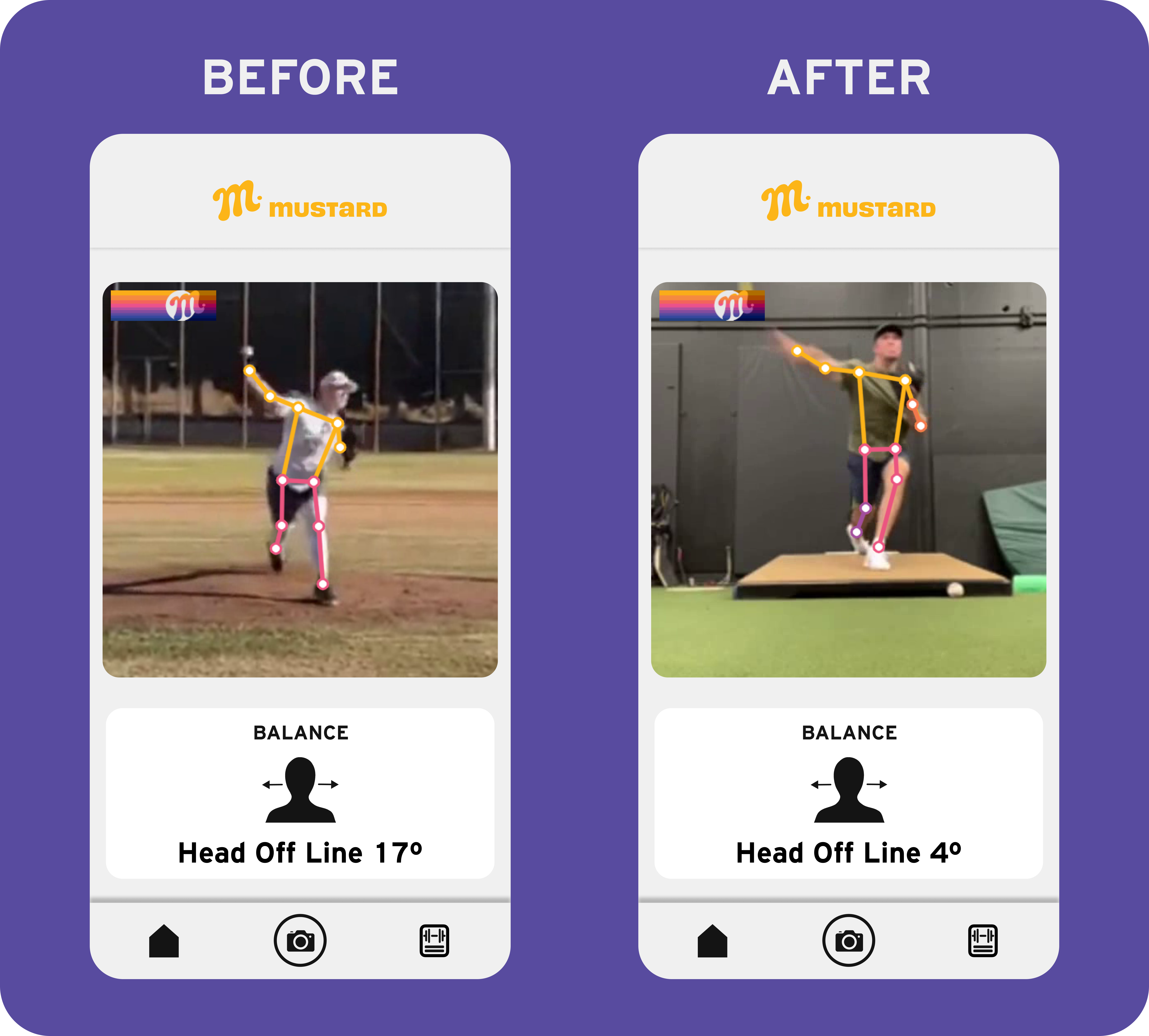 Here's what Steele is working on now.
TIMING: "The most important variable for me is timing into foot strike, and I have been working a lot on going fast. When I was young, Tom would have me bend my knees those extra two inches in my set position. Tom talks a lot about cutting the angle, the distance and the time to home plate, and when you think about bending your knees and going forward, you don't waste any energy by dropping. A lot of the fixes he made with me as a kid, I took with me over the years and now I'm able to just do it. This variable also shows stride length. All my life, I have walked it off on the mound to make sure it was at least six of my own feet. But now, Mustard measures it for me, and seeing it is just so cool."
BALANCE: "I love this variable because it tells you your head position. If you take a regular video, you can see if your head is moving, but you don't know how much, or if you're in the range where it's acceptable so you're not wasting anything into release point. With Mustard, you see exactly how off you are and know you need to work on keeping your head stable so your release is consistent and where it needs to be. Your head is supposed to be between zero and 15 degrees, but right now, mine moves a lot — and I've known that before based on regular video. Mustard quantifies it for me: sometimes it's 11, sometimes it's 15 and sometimes it's six. But it's helpful to get that Mustard Report Card to see where it is on a given day. And when I focus on keeping my eyes level and my head doesn't move, I hit the target. It's such a confidence boost. I'm like, yeah, where do you want me to throw it?"
HIP & SHOULDER SEPARATION: "This is the coolest thing to be able to measure. Optimal hip and shoulder separation translates into more torque and more velocity, but you also create the ability to "throw hard easy." This is so much healthier for guys and their arms, because they create the power with the torque and not the arm."
---
If you'd like more great content from Mustard, and you'd like to evaluate and improve your own pitching mechanics, download the Mustard pitching app today.