Image Courtesy of Luis Pardo/MiLB.com
What a difference a year makes.
Last July, Justin Courtney was at home in Bangor, Maine, with a fastball sitting around 88 mph, weighing what seemed like slim odds that he'd ever pitch in the pros. Now, he's 3,200 miles from home in San Bernardino, CA, closing for the Inland Empire 66ers, the Los Angeles Angels Low-A affiliate. And his fastball is touching 96 mph.
At the beginning of the season, the 66ers were using Courtney in high-leverage situations, bringing him in for a couple innings late in the game to protect a lead and bridge to the closer. Now, he is the closer, and he's boasting 34 strikeouts and just two walks (one of which was intentional) in 25 innings pitched, through July 14th.
Courtney complements his fastball with a curveball and changeup that his new mentor, legendary pitching coach and Mustard co-founder Tom House, calls "Bugs Bunny pitches" because of their dramatic, late movement and tendency to miss bats. It is in part due to Courtney's relationship with House, through Mustard, that the 24-year-old is where he is today, in position to climb the ladder to the big leagues. Says House: "From the beginning with Justin, all I saw was capacity."
LOOKING FOR AN EDGE
Prior to the COVID shutdown in March 2020, Courtney was teaching pitching lessons to kids at home in Maine, while throwing bullpens and working out on his own, or with his younger brothers, Derek and Garrett, or occasionally with his former team at the University of Maine. The goal was to try out for independent league teams in March and April. When the independent leagues' 2020 seasons were officially cancelled, Courtney took a few weeks off from throwing, then got back to his program. However, what he was doing wasn't working. His arm felt terrible and his velocity was going nowhere.
It was an achingly familiar feeling for Courtney, and one that he didn't welcome. Courtney had been an All-American his freshman year at Maine, but the jump in workload from 16 total games per season in high school to 50 in college took its toll, and he felt the wear-and-tear in his arm. His velocity and command suffered, and he was in constant pain. In April 2018, during his senior season, Courtney had Tommy John surgery to repair the ulnar collateral ligament in his right elbow. In March 2019, he returned to play with the Black Bears as a graduate student. His arm felt better, and he was touching 94 mph, but he went undrafted. Courtney was ready to do whatever it took to reclaim that velocity.
After reading an August article on Mustard in Baseball America, Courtney sent House an email with a video of his pitching delivery, asking for help. House and Mustard Head of Community Jordan Kutzer watched it, and invited Courtney to the Mustard weekly community calls. In an effort to soak up all House had to offer, Courtney even interviewed House for an episode of his "Punch Out Pitching" podcast.
FAST FIXES
At 6-5 and 225 pounds, Courtney was only throwing around 88 miles per hour, but nevertheless, House was impressed. "There was nothing I didn't like," House says. "Justin had some ingrained habits that needed to be fixed, but that was no problem with his athleticism and his intelligence."
Courtney's father was a professional tennis player and his mother, a field hockey player and a swimmer. In high school, Courtney also played soccer and hockey, and was even a finalist his senior year for the Travis Roy Award, given to the state's best hockey player. With Courtney's stellar body awareness, House knew Courtney would be able to make quick adjustments and immediately feel the differences in his body and his delivery. Each week on the Mustard community Zoom calls, Courtney would share a video for House to review, and House would point out something for Courtney to work on. Around four months later, in December 2020, Courtney got the Mustard app, and was able to quantify what House had been telling him. "Being able to see the numbers was huge," he says.
"Tom told me to get my booty going down the mound, first thing," Courtney said. "And he said if I'd drag my back foot, just put my back foot down, I'd get two miles an hour. And it was true. Each of his adjustments worked, and I thought, 'We're on to something.'"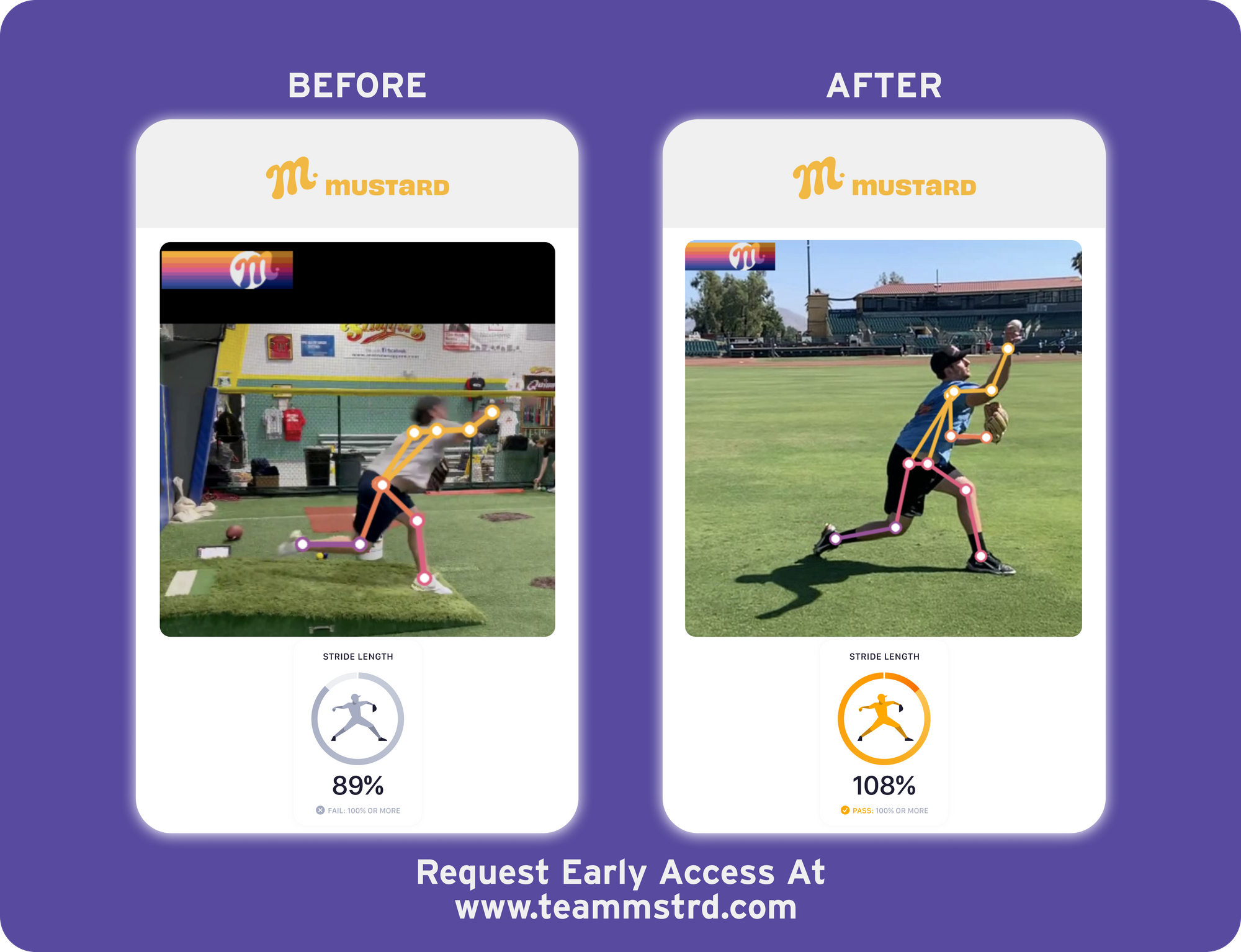 For Courtney, switching from a focus on strength to a focus on speed made the biggest difference. For years, he had been doing long toss to strengthen his arm in an effort to increase velocity. But House told him he was already strong enough; he simply needed to move faster. "So instead of long-toss, I started to focus more on run-and-guns to get my body moving faster, and we did a lot of work with the four-ounce ball," Courtney says. "I had been muscling the ball 90-something miles per hour, using just my arm, but Tom's coaching got me to get my body moving to deliver the baseball."
That focus on speed drastically changed how Courtney viewed his stride length. For many years, he had been told to shorten his stride to get on top of the ball, and House was having him do the exact opposite: trying to get his body moving down the mound to increase his stride distance to seven of his own feet. The adjustments worked: In mid-December, Courtney hit 100 mph on a run-and-gun with the four-ounce ball, then 95 with the regular five-ounce ball.
Through his use of the Mustard app, Courtney also learned to better control and utilize his glove to stabilize his pitching delivery.  "Early on, my glove was all over the place," he says. "I'd have good timing, good balance, but I was failing swivel and stabilize all the time. Now, to see it pop up as "pass," is really cool."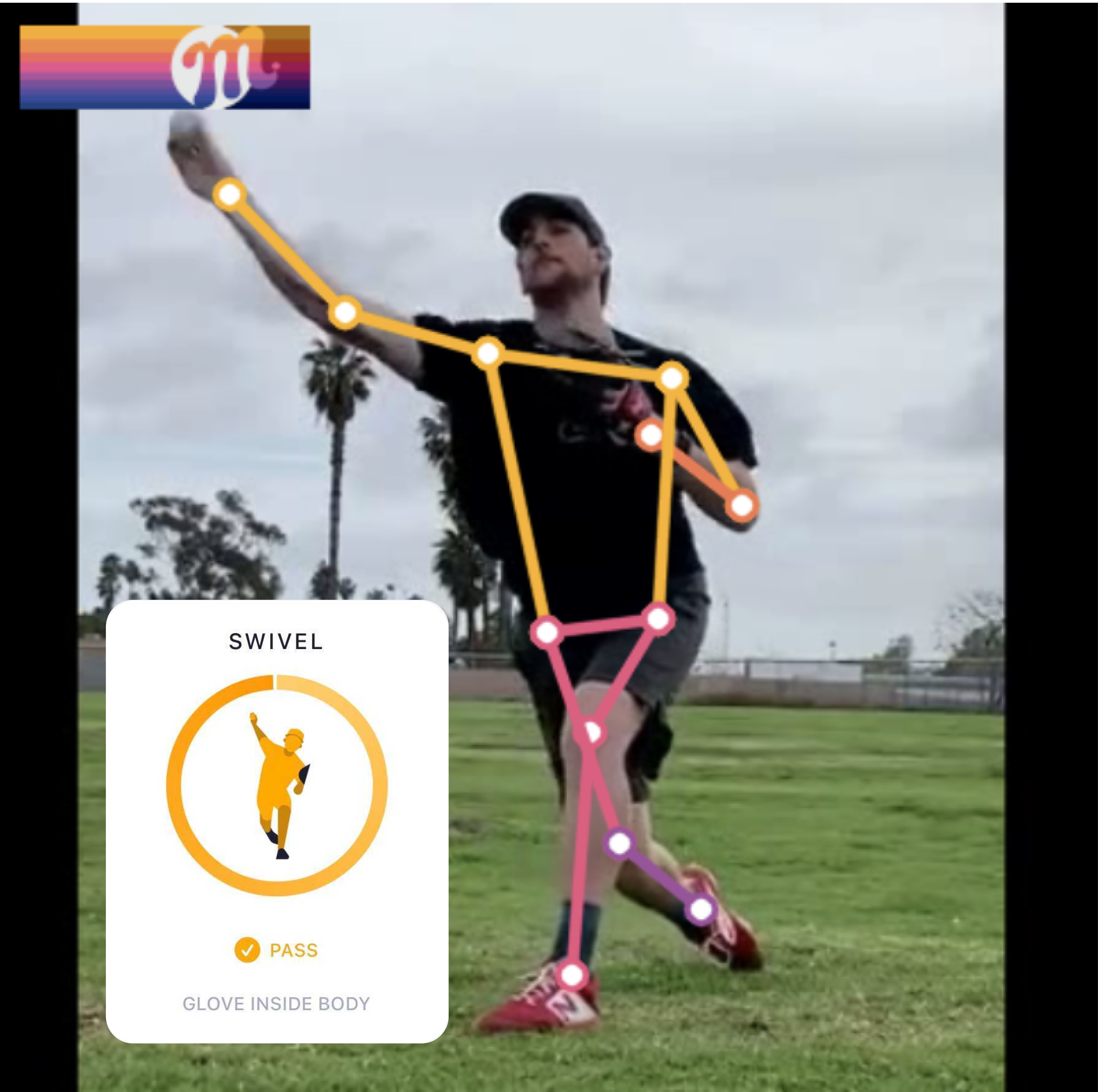 IN IT TO WIN IT
In early February, Courtney flew out to California with a one-way ticket and a duffle bag to work with House in person. After just a few days, he began touching 98 mph on the radar gun. "Everything we asked Justin to change would be fixed by the next week," House recalls. "When he came out here on that one-way ticket with no place to stay, I thought, 'If we can't help this kid with his desire to play and commitment to getting better, we can't help anyone. He just has 'IT.'"
After a not-so-great tryout with the Padres, the Angels signed Courtney to a minor-league contract, and in March, he headed off to spring training in Arizona. After extended spring training, Courtney landed with the 66ers. He has kept all the habits he learned from House, including his lengthy, full-body warmup. Courtney gets to the park early to get in his skips and bounds, flex T cariocas and speed towels. Some other pitchers think he's crazy. Others join in, realizing that Courtney's methods – and House's – work.
"All Justin needs to do now is continue to establish himself in games, just by getting innings, making mistakes and learning from them," says House. "He has been validated as a Major League prospect. Everything is happening very quickly and he's doing even greater than we thought."
---
If you'd like more great content from Mustard, and you'd like to evaluate and improve your own pitching mechanics, download the Mustard pitching app today.