By Lindsay Berra
Eddie McCartney's journey to Mustard and the Mustard pitching app began in a batting cage rather than on a pitcher's mound.
Eddie was 9 years old, and he was afraid of the ball. So much so that his parents, Tom and Julie, suggested he might want to pursue a sport other than baseball. But Eddie, who had been hitting Wiffle balls in the front yard since he was a toddler with dad, didn't want to give up. Julie searched online for a private hitting coach to help her son, and when she couldn't find one, they took him to a Palo Alto-area indoor hitting facility to practice. It was there that they met former Stanford pitcher and Tom House disciple Jordan Kutzer – who was also a pretty good hitter at Pasadena Poly high school – and hired him to be Eddie's hitting coach.
A few afternoons later, as Eddie's frustration at the plate reached a peak, Jordan suggested they take a break and just have a catch. And everything changed.
Eddie's first few warmup throws were clean and crisp, snapping into Kutzer's glove with a satisfying "pop." Then, just to see how hard Eddie could really throw, Kutzer ask him to move a little faster. "Most kids, when you tell them to move quickly, they'll just try to throw harder, but Eddie understood intuitively how to move his body faster," Kutzer recalls. "I told him, 'I don't think anyone is going to care about your hitting anymore. You're a pitcher now."
Fast-forward five years. The country is in the midst of a pandemic and Kutzer has relocated to Bend, Oregon, but he still coaches Eddie remotely, while also working as Mustard's product designer. And when Kutzer and Eddie can't be on a video call, Eddie has the Mustard app on his phone. "With COVID, you can't see a coach, so there's no one to guide you on this path of pitching," Eddie says. "There is a lot of misinformation on the internet, and you don't know what sources to trust. Mustard was my digital coach during this time. It guided me and helped me get better, and let me use these past months as efficiently as I could." Eddie says many of his teammates lost control or velocity during their long time away from organized practice, but he has gained in both areas; so much so that his velocity has increased from 63 mph pre-COVID to a current 70 mph.
For Eddie, the most helpful part of the Mustard pitching app is the feedback he gets on timing and stride length. His goal is to go from first movement to foot strike in under one second, and to stride the length of at least six of his own feet. "Sure, you can put a leaf at six or seven feet, but it's not that accurate, and it's impossible to start a stopwatch at the beginning of your motion If you're by yourself," he says. "You can have a good feeling about what you did, but the Mustard pitching app tells you that good feeling is actually good, that it's not just in your head, and that confidence shows when you get in the game."
When Eddie gets caught up in trying for a higher leg kick, or locating pitches, or gets otherwise distracted, his delivery slows down, his body doesn't open up enough, his glove drops, his head position falters and his stride decreases, and the Mustard pitching app will confirm all of that. "I see my velocity go up when I keep timing and stride length in check," he says.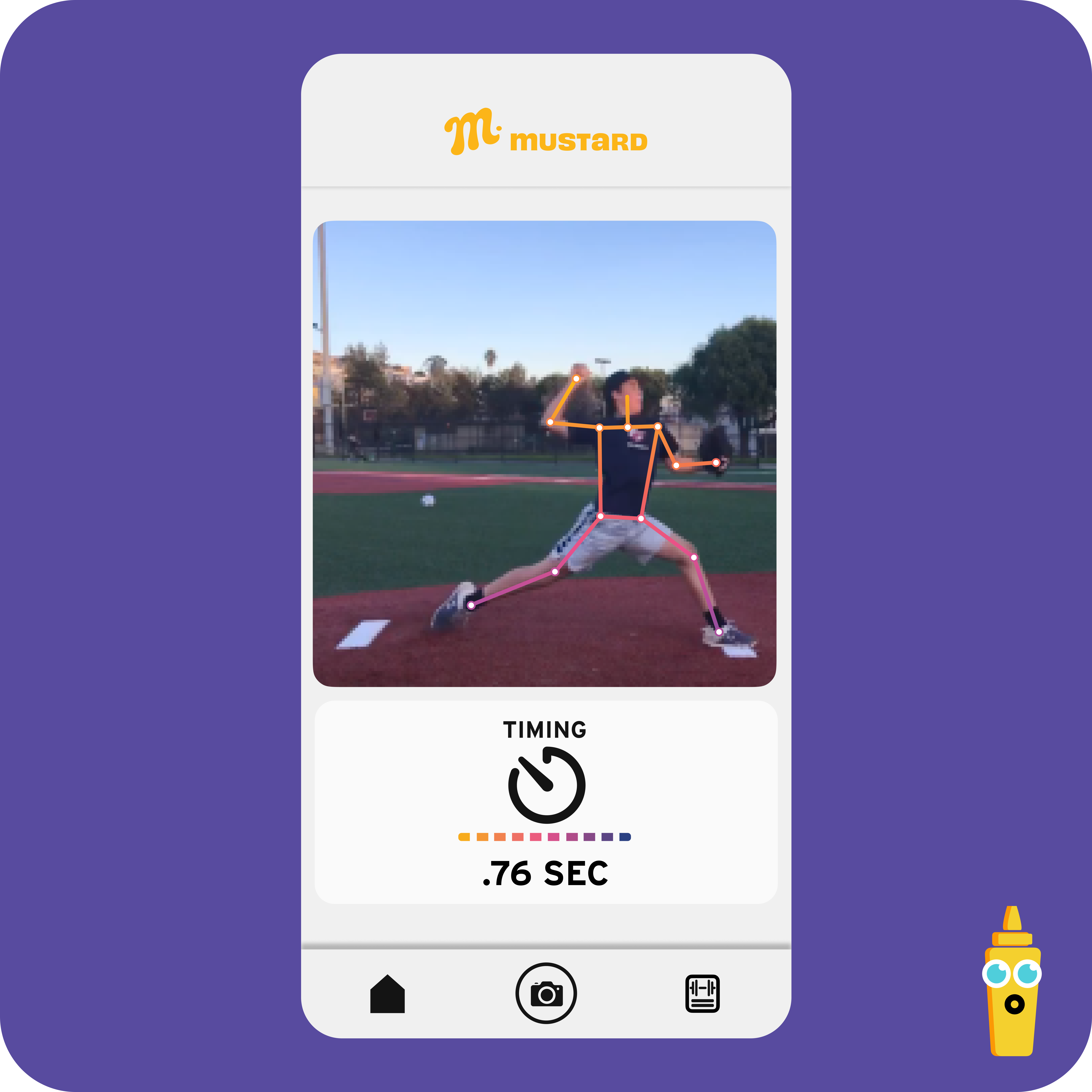 Now, Eddie is looking forward to high school and to getting back to the intensity of a regular baseball schedule. Soon, he'll decide whether he'll attend Sacred Heart or St. Ignatius in San Francisco, where he plans to pitch. And while he knows his free time will drastically diminish once he hits high school, he plans to use the Mustard pitching app as part of his daily routine.
"With the Mustard pitching app, I'm able to grab a towel and go into the living room and give myself a private lesson, because the app is there to check my mechanics," he says. "It's really efficient for the small amount of free time I'll have in high school."
Eddie has also turned his memories of being afraid of the ball at the plate into an advantage, using them to inform his strategy of pitching to hitters. Additionally, his increased confidence on the mound has upped his confidence at the plate, and so have all the reps he's taken in the yard with his dad during the pandemic.
Eddie, for his part, maintains a sense of humor about the whole thing. "My hitting has improved," he says. "I've gotten slightly better than I was when I met Jordan."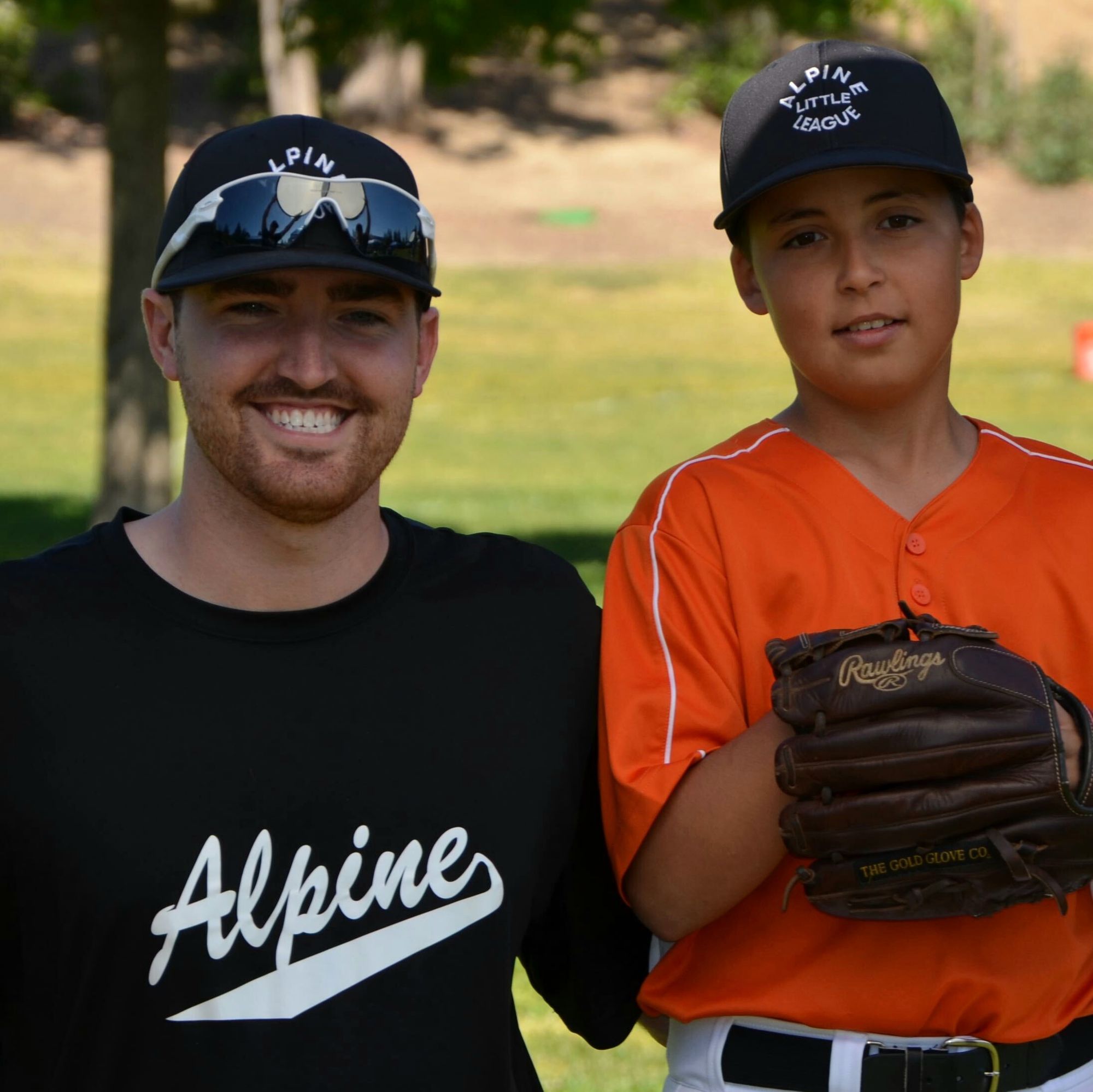 ---
If you'd like more great content from Mustard, and you'd like to evaluate and improve your own pitching mechanics, download the Mustard pitching app today.